MIDI 2 CV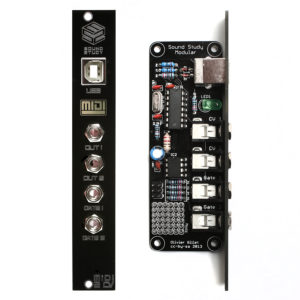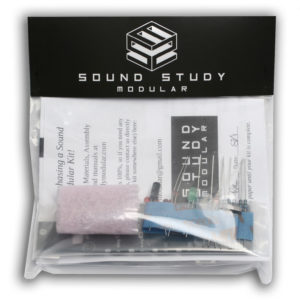 The Sound Study Modular Midi 2 CV is a 4hp USB MIDI to CV and Gate converter. It has a bunch of different modes that it can operate on, like monophonic, duo monophonic, and many more!
Compatibility
The Midi 2 CV is class-compliant but uses an unusual USB setting (1ms poll-rate in low-speed mode) not well supported on Windows.
Optimal latency is obtained with OS X >= 10.6.3 ; iOS ; or Linux >= 2.6.
On other systems, the Midi 2 CV will work but messages will be delayed by up to 8ms.
Conversion modes
Monophonic with velocity
Monophonic with velocity and square oscillator
Dual monophonic
Duophonic
CC conversion
Monophonic with CC
Quad triggers
Quad gates
Monophonic CVCVpalpalwith MIDI clock output
Technical characteristics
Range and standards:
CV outputs: 0 to 4V, V/Oct (4 octaves).
Gate outputs: Positive V-trig, ON = 5V ; OFF = 0V.
Performance:
Resolution: < 2mV.
8 points calibration curve for non-linearity compensation.
Temperature dependency: +/- 2 cents within the 10° C to 80° C range.
Output impedance: 220Ω (rule of thumb: 2 cents drop per connection to a CV input).
Power supply:
USB-bus powered, current draw < 20mA.
Important Information
The Sound Study Modular MIDI 2 CV is a clone of the Mutable Instruments CV PAL.  The CV Pal is an open source project licensed under the CC-BY-SA 3.0 license. If you are seeking support, have ANY questions, or need ANY assistance whatsoever with Sound Study Modular PCB's, kits, or assembled modules, then DO NOT contact Mutable Instruments for any reason related to this product.  Sound Study Modular will assist with service, support and any other questions that you may have.  You can contact us at soundstudymodular@gmail.com
Download the MIDI 2 CV manual here (same as the CV PAL manual)
License Information
Code: GPL3.0.
Hardware: cc-by-sa-3.0
By: Olivier Gillet
All of the files and documents pertaining to the Midi 2 CV can be found on our github
Here is also a link to Olivier's github page on the CVPAL
Information for re-use, adaptations or derivative works
Sound Study Modular (and Mutable Instruments) are trademarked, and should not be used on any of works you create from these files.
We ask that if you want to re-use all or part of the files provided on github that you change the name of the product to something else.